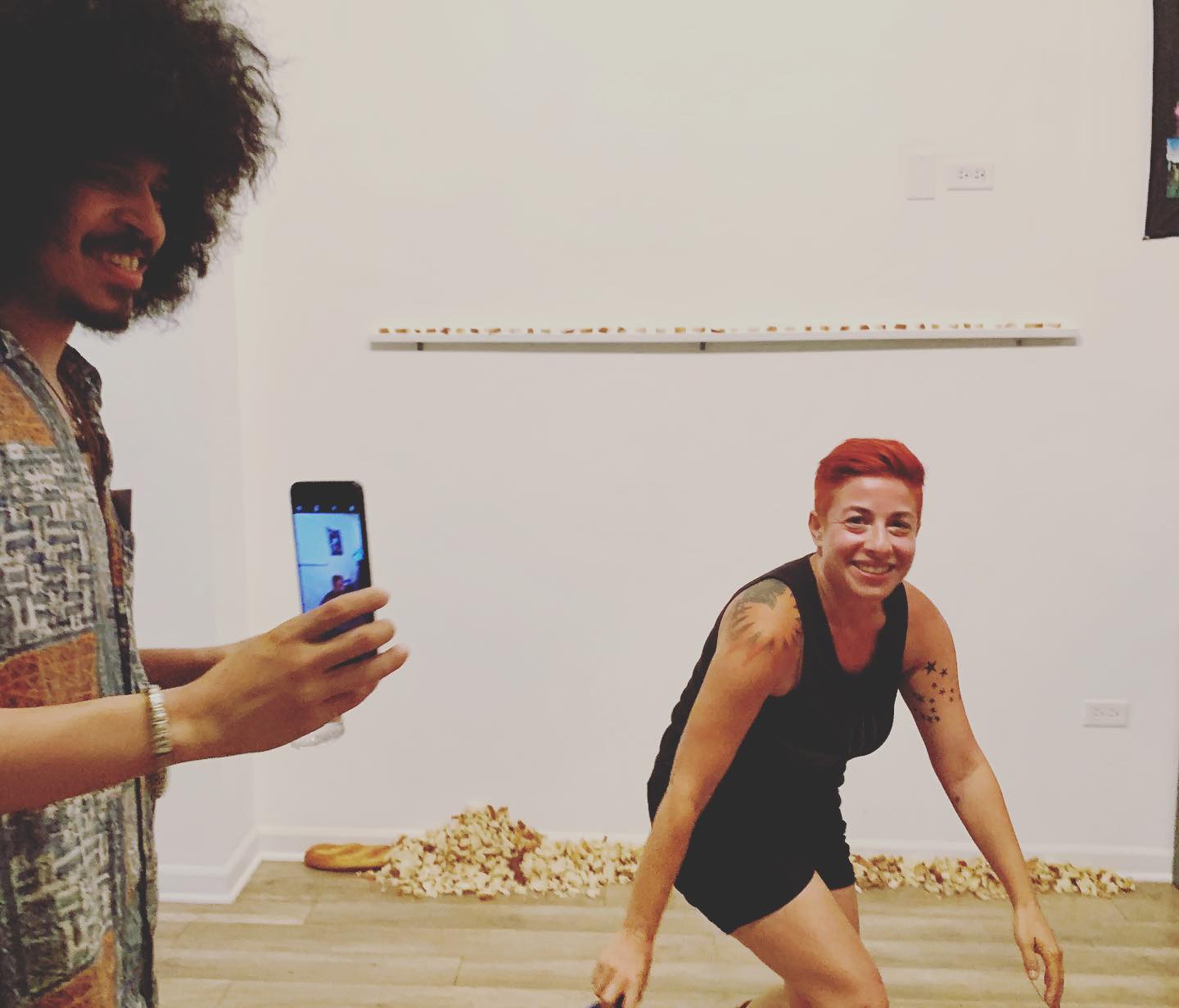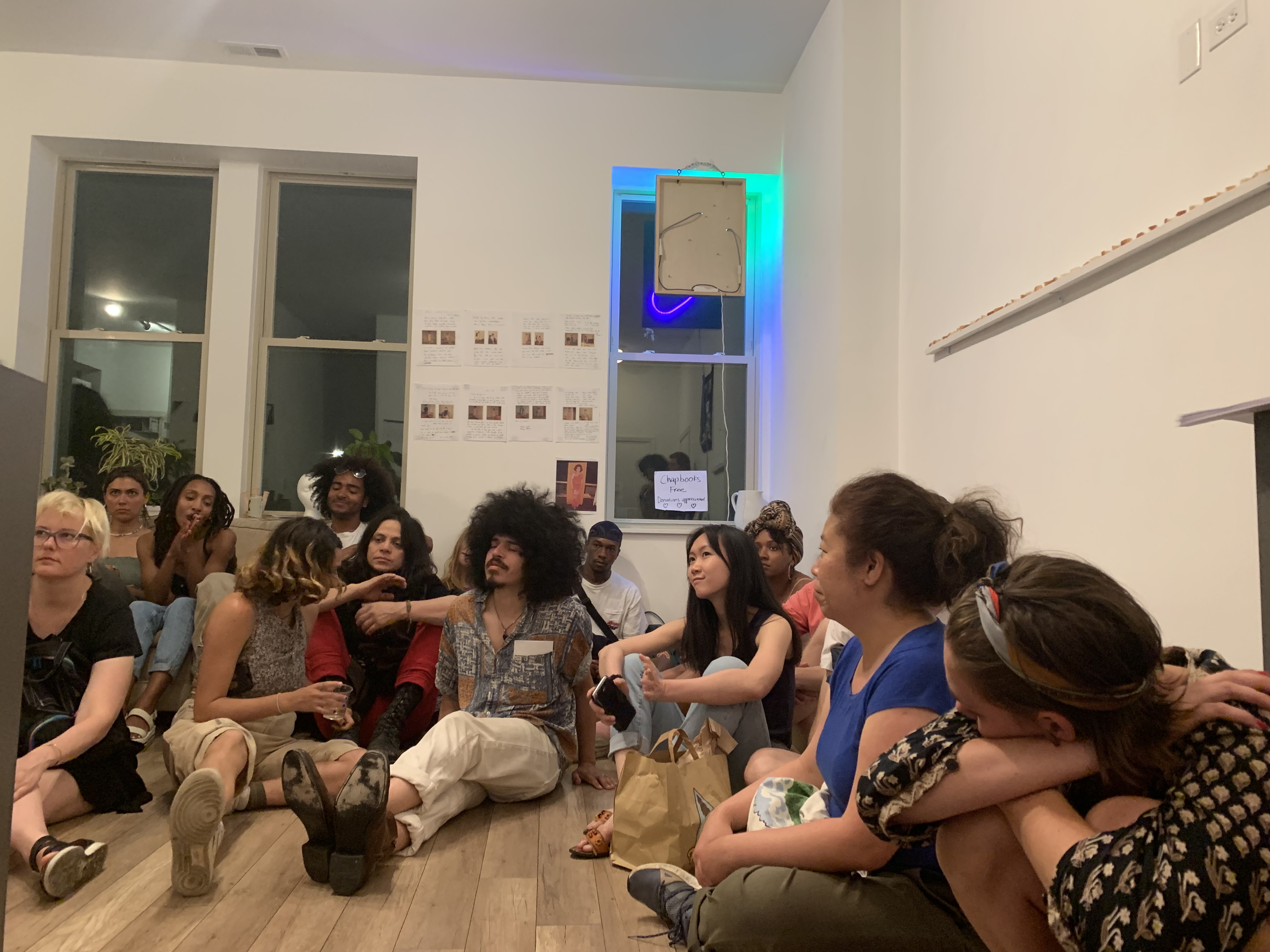 Breadcrumbs (2019)
Installation. Bread, wood, paint
July 2019
presented at Ante-Scriptum
curated by
Ariana Hess and Noah Fields
Siblings gallery (aka The Condo Association)
Chicago, IL

This piece presents a landscape, an emotional and sculptural landscape.

We inherit from our upbringing an emotional structure that we repeat over and over, because it is all that we know. We must undo what it does to us in the present. We must rewire our brain, unlearn, un-know, make space to know something different so that, in this case, the experiences, the breadcrumbs, aren't all that we expect of relations. The repetition of old, salvaged bits of bread on the brink of decay presents a poetics of grief, a ritual of letting go, a performance of healing trauma. This assemblage makes for a much different, more beautiful landscape than any crumb, a learned emotional structure transmuted within this open process.

"Breadcrumbs (2019) wouldn't be out of place as a visual addendum to Barthes's A Lover's Discourse. Rebecca Ladida's minimalist sculpture poses the illusion of direction within the disorientation of love: the visual gesture of crumbs leading you on, yet trailing off... A lover's tease leaving you hungry." - Noa/h Fields, co-curator of Ante-Scriptum, poet, artist
Failings & Habitats (2018)
Installation
Van, astroturf & plastic flowers, scent, audio, live performative reading
Bubbly Creek Performance Art Assembly
Dfbrl8r Gallery, Bridgeport, Chicago, Illinois, USA, land of the
Bodéwadmiké (Potawatomi Nation)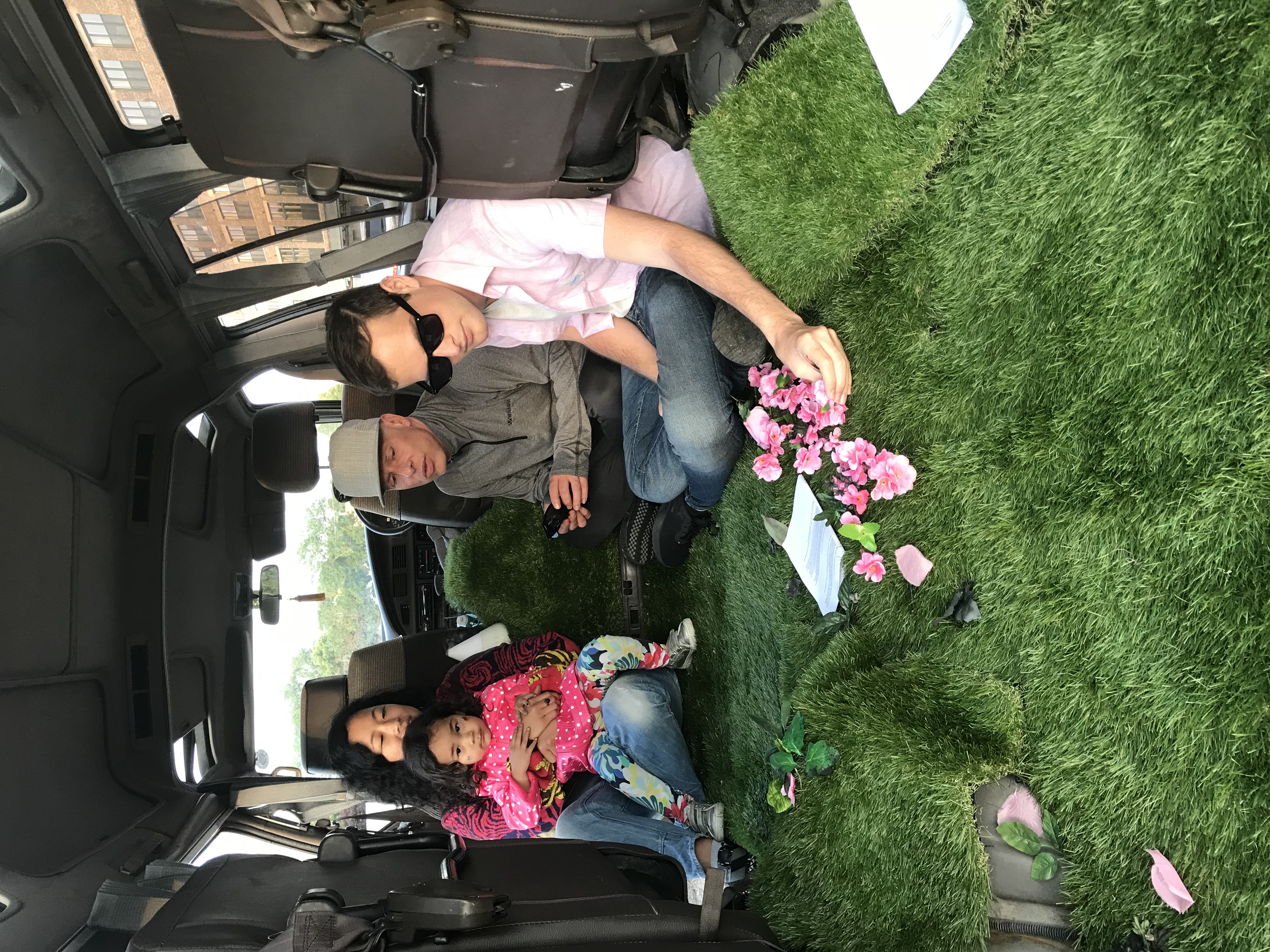 Failings and Habitats gathered audio recordings of people from various places attempting to pronounce the names of the land on which they sit in the language of the Native peoples custodians of these territories. This installation was set in a van, which is lined with astroturf and parked in front Bubbly Creek (Bridgeport, Chicago) June 9th 2018.

The scent component is a blend of essential oils from native trees and grass from the Illinois land made by artist Eleonora Edreva which was diffused in the van. Visitors could also listen to the audio recordings through bluetooth speakers.

Olfactive blend ︎︎︎
river birch
white oak
sweetgum
bald cypress
wild geranium
st johns wort
prairie grass

This installation addresses our failings at speaking even basic words in Native languages and translating the knowledges they hold: modes of inhabiting, relationships to the land (botany, dendrology, herbalism), and social practices.


The irony and playfulness of a lined astroturf habitat not only invites one to revel in kitsch pleasures but points to our desire to appropriate and reproduce nature in a way that doesn't demand us to engage and is not that playful.

The contrast between the contemplative nook where one finds themselves immersed in a joyful scent (powerful antidepressant scents that also eliminates congestion for example) and the unease (and possible shame/kick in the ass) experienced in our collective failure exposed through the audio component requires that we sit with the trouble, perhaps unsettled. Like unsettled settlers. But it is more of a learning machine than a shaming machine. Many trees native to Illinois are endangered or threatened species. The collaboration toward making this scent was also meant to be a learning process about the state of the local forest.

The futuristic looking van symbolizes the
fantasy/desire to conquer space - perceived as
"available". The vehicle also embodies the American
road trip dream where one riffles through the mileage but doesn't quite necessarily have to encounter anyone.


Eleonora Edreva is a scent and video artist born in Burgas, Bulgaria and raised in Chicago. Her work seeks to nudge people—to think about the sticky environmental problems that are easier to ignore, to engage thoughtfully, lovingly, and sensually with the micro and macro environments around them, and to

spend more time navigating the world using their noses. She strongly believes that our sense of smell will have a part in holding off total environmental catastrophe and spends most of her time thinking through and experimenting towards what it could be.
Rebecca Ladida & Virginie Jourdain
Video* (4:34 min)
Facing the camera, both subjects rest their heads on a pillow and take their turn uttering words and sentences - in both French and English - that are an essential part of the wordplay linked with lesbian and queer seduction and sexuality. The bare bones scene, the matching impersonal clothing style and the almost disembodied attitude of the subjects offer a sequence that is miles away from the physical and exciting scenario that is expected when this subject is at play.
The visual of the piece and the tone being used clash with the very sexually explicit conversation between the subjects. Far from being a romantic and sensual exchange - there is no pillow talk here - the piece does not offer dialogue, but rather a pragmatic guide on "how to sexually survive bilingualism" like the title suggests, or on how to negotiate and fulfill one's desires in a bilingual queer community where one must know the social codes and be familiar with the ever-evolving game of seduction while managing one's own contradictions as a lesbian/feminist/queer being.
Playing off the complete lack of sentimental undertones, the narration is a quick loop of images that synthesizes a relationship - or rather an interaction - between two lovers. The video ironizes our heads on approach to a sexuality that has no taboos and addresses the hardship of understanding one another in various circumstances as well as the apathy that is sometimes a byproduct of this reality. Sex and seduction, straying from love in a self-deprecating manner and perhaps even a bit of sorrow, like a strategic game where one must be quick, efficient and succeed without getting burned.
*presented at I'm Feelin Myself, curated by Miranda Kyle at Downtown Player's Club (Atlanta, USA), The Wretched Nobles Film Series by Emily Esperanza (Chicago, USA), Femmes' Video Art curated by Micol Hebron, Los Angeles Contemporary Exhibitions (LACE) (Hollywood, USA), A Tragic Duality, Far As The Curse Is Found, CHICAGQ Exhibition Program by Hanna M. Owens, RAIZVANGUARDA Associação Cultural (Bordeiro, Portugal), La Centrale Galerie Powerhouse, HTMlles & published in dpi. 23, Ada X (Montreal, QC, Canada)

Untitled (borders, queer camo) (2017)

Performance - three disruptive iterations in different areas of the Chicago Cultural Center
In/habit roving art series
at
the Chicago Cultural Center
July 2017
Borders are the arbitrary and violent lines of a colonial grid, playground demarcations of Nation-States, enforced by the military institution. Playing with the loaded
pattern of camouflage, this interruptive performance also calls in queer aesthetics as a potential weapon to question "Nature"/hierarchy and the state of fight/combat and survival/camouflage of queer, colonial subjects.
This was a performative curatorial statement for
InLine II
, a performance, dance, video, new media and sound event about lines of power and translation organized by Mitsu Salmon & Rebecca Ladida
InLine II detailed program

About InLine II
A line connects or separates, extends or contains.
A line can be a manifestation of power, a border (who draws the line), a response (establishing boundaries between bodies and body politic).
A line is a decision; a line is an object of conflict. The Chicago Cultural Center is a historic and cultural landmark which is the city'sofficial reception venue where the Mayor of Chicago has welcomed Presidents and royalty, diplomats and community leaders. Playing with and questioning the grandeur and display of power that the space represents we have invited artists who "do not cut the line" instead to investigate these lines of power, place and the body. Traversing the 4th floor, the artists of InLine are performing these lines through different mediums. By moving a line from paper to the body, to a screen and so on, the line -the form's meaning- layers and becomes more complicated with each reiteration. We can think of these echoes as translation processes. InLine is therefore about both translation and lines of power, about 'keeping in line', within the limits of our social positions. It is about processes of identifications and disidentifications, and the languages available to us to do so. It is about the unavoidable trespassing that occurs when one expands beyond these boundaries.