Failings & Habitats (2018)
Installation
Van, astroturf & plastic flowers, scent, audio, live performative reading
Bubbly Creek Performance Art Assembly
Dfbrl8r Gallery, Bridgeport, Chicago, Illinois, USA, land of the
Bodéwadmiké (Potawatomi Nation)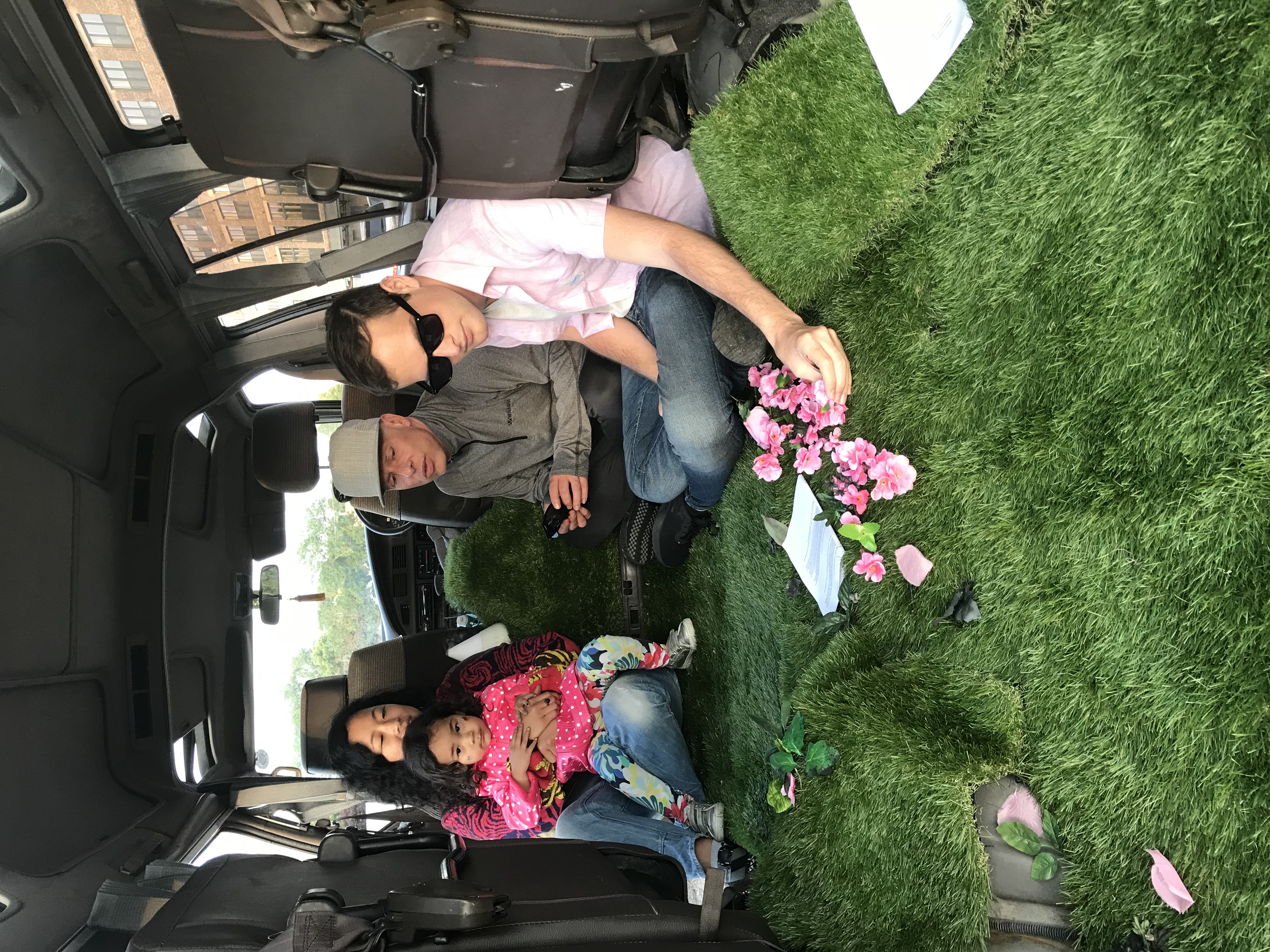 Failings and Habitats gathered audio recordings of people from various places attempting to pronounce the names of the land on which they sit in the language of the Native peoples custodians of these territories. This installation was set in a van, which is lined with astroturf and parked in front Bubbly Creek (Bridgeport, Chicago) June 9th 2018.

The scent component is a blend of essential oils from native trees and grass from the Illinois land made by artist Eleonora Edreva which was diffused in the van. Visitors could also listen to the audio recordings through bluetooth speakers.

Olfactive blend ︎︎︎
river birch
white oak
sweetgum
bald cypress
wild geranium
st johns wort
prairie grass

This installation addresses our failings at speaking even basic words in Native languages and translating the knowledges they hold: modes of inhabiting, relationships to the land (botany, dendrology, herbalism), and social practices.


The irony and playfulness of a lined astroturf habitat not only invites one to revel in kitsch pleasures but points to our desire to appropriate and reproduce nature in a way that doesn't demand us to engage and is not that playful.

The contrast between the contemplative nook where one finds themselves immersed in a joyful scent (powerful antidepressant scents that also eliminates congestion for example) and the unease (and possible shame/kick in the ass) experienced in our collective failure exposed through the audio component requires that we sit with the trouble, perhaps unsettled. Like unsettled settlers. But it is more of a learning machine than a shaming machine. Many trees native to Illinois are endangered or threatened species. The collaboration toward making this scent was also meant to be a learning process about the state of the local forest.

The futuristic looking van symbolizes the
fantasy/desire to conquer space - perceived as
"available". The vehicle also embodies the American
road trip dream where one riffles through the mileage but doesn't quite necessarily have to encounter anyone.


Eleonora Edreva is a scent and video artist born in Burgas, Bulgaria and raised in Chicago. Her work seeks to nudge people—to think about the sticky environmental problems that are easier to ignore, to engage thoughtfully, lovingly, and sensually with the micro and macro environments around them, and to

spend more time navigating the world using their noses. She strongly believes that our sense of smell will have a part in holding off total environmental catastrophe and spends most of her time thinking through and experimenting towards what it could be.